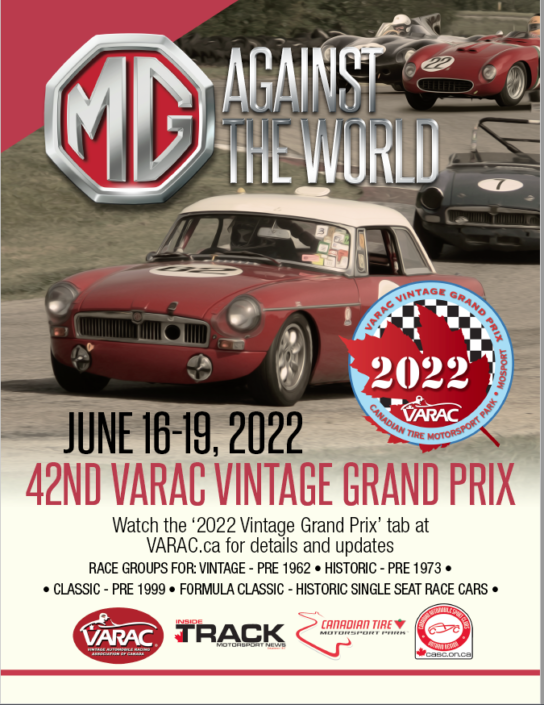 Location
Canadian Tire Motorsport Park Motorsport Park, Bowmanville, ON, Canada
Date
June 16, 2022
We are pleased to report that the 2022 VARAC Vintage Grand Prix (VGP) will be held June 16 through 19, 2022, on the historic Mosport Grand Prix Track at Canadian Tire Motorsport Park, just outside of Bowmanville, Ontario.
Our feature marque will be MG! Our theme is "MGs vs The World". We are sending out a special invitation to all MG racers and welcome MG cars of all types – Pre-War; T series; A's; B's; C's; GT's; V8's – bring them all!
We welcome MG Vintage Racers who have designated this event as a Focus Event. There will be a special "all-MG" Race as well as a Nation's Cup Challenge with Brits vs "the rest of the world".
Also the VVGP weekend will kick off a fantastic five-day gathering/meet for MG enthusiasts –
MG 2022 in Peterborough (June 19-23)
We also welcome the Formula Ford Challenge Series (FFCS) as a run group at this event. FFCS is an Eastern US & Canadian series for Formula Fords running under vintage race rules.
3 Members Attending this event ↵
Want to add yourself to the list of attendees?
Please Sign In — or Register a new account (it's free!)
event/2481